If you're wondering what antivirus is best to buy for 2013, you're at the right place. We have looked around for many alternatives and ended up with two options: you can buy Bitdefender 2013 today for  69.59 USD, or buy Kaspersky Internet Security 2013 for  54.95$
Is it worth it?
While you can get many other alternatives under 20$
, buying  bitdefender 2013, or Kaspersky internet security 2013 is probably the right choice. take a look at this chart: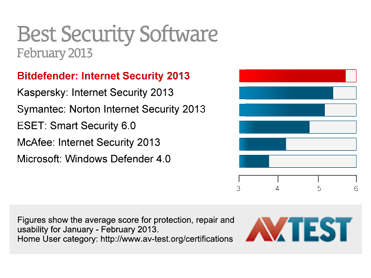 As you can see the gap between Kaspersky –  Bitdefender and other competitors is unignorable,  Bitdefender is leading in terms of protection, repair and usability, closely followed by Kaspersky.
The following  chart is also taken from av-test.org, and it shows that Kaspersky: Internet Security 2013 has full marks in protection and repair, followed by Bitdefender which lost half a point on matters of protection:
I personally have been a fan for Kaspersky for many year and that will be my choice for 2013. but that's just me, as I already have experience working around kaspersky, for anyone who doesn't or have a limited IT skills, I would definitely recommend you to buy BitDefender 2013
To learn more and buy Kaspersky Internet Security 2013 go here
To learn more and buy Bitdefender 2013 click here
UPDATE: I got you guys a special 5% discount coupon for Kaspersky internet security 2013, use this code during checkout: 

ANGRYBYTE2013